Holt Construction Services Ltd.
Holt Construction Services Ltd.
1914-25 Mabelle Ave
Toronto, Ontario
M9A 4Y1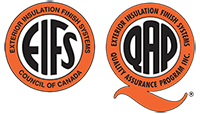 Member of EIFS Council of Canada
Timing
We have experience, credentials, labour force and resources to make the project run in a timely manner.
Materials
We use best quality EIFS materials available.
Quality Workmanship
Our experienced, client-oriented, skilled work force is there to provide you with customized EIFS installation that reflects your needs.